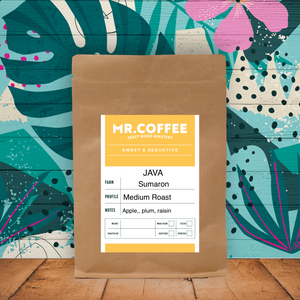 The Flavour Profile
This is a Medium Roast coffee from Java - Indonesia. This is well balanced coffee, with a medium to full body, with apple, plum notes that round off into a raisin sweetness, we think its sweet and with gently punch that will leave you with a enjoyable toffee-like after taste. 
The Little Details 
This coffee comes from Sumarno's Farm in a town called Tlahap Village, Temanggung, Central Java region in Indonesia. It's grown 1000 to 2300 meters above sea level and are fully washed . It's drawn from a mix of Arabica Line S288, Kartika, Sigararutang and Typica varietal coffee beans. 

About the Process
The cherries are carefully handpicked and sent to the wet mill located at Sumarno's home. This is common for large coffee producers or leaders of cooperatives in Indonesia. The cherries are first submerged in a tank of water to remove the floaters, or lower quality cherries. They are then de-pulped to remove the exterior fruit skin. Afterwards, the coffee is placed in special tubs, or kolas, to ferment in water for 24 hours and allow for the breakdown of the external mucilage. Once fermentation is complete, the coffee is washed a final time before being placed on drying racks to dry in the open sun for 15-20 days. During drying, the coffee is moved to the floor in order to reach a moisture content of 11.5 – 12%.