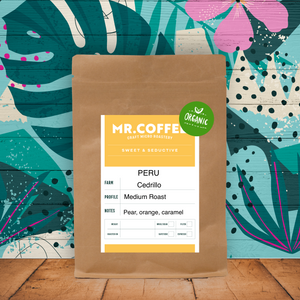 The Flavour Profile
This Medium Roast from Peru-Cajamarca offers a perfectly balanced experience that packs a punch of flavor! Delicious notes of pear and orange lead to a sweet, inviting caramel-like aftertaste.
Little Details
This coffee comes from El Cedrillo Farm in a town called  La Naranja, Cajamarca region in Peru. It's grown 1850 meters above sea level and are fully washed and dried on raised beds . It's drawn from a mix of Arabica Line Typica and Red Caturra varietal coffee beans. 

About the Process
Harvest spans from July to November. Coffee processing techniques in the region are tried and tested methods of production, often passed down through the generations. At El Cedrillo, harvest begins with the cherries being selectively handpicked and transported via mule to the wet mill 500 meters away, At the wet mill, the cherries are floated in cool clean water to remove any low-density cherries. Then ferments the cherries , first for 72 hours in bags, after which the coffee is pulped to remove the exterior fruit. Water from a local spring is utilized for this process. Once clean, the coffee is fermented a second time for 48 hours to breakdown the sticky mucilage remaining. The coffee is then washed three times before being dried until the ideal moisture content is reached. Then the coffee is transported to Jaen, the headquarters for Alpes Andinos, to be hulled and prepared for export. This is typically a three-hour journey.